Squarespace SEO Expert provides an all-in-one platform for creating, managing, and optimizing a website. With this platform, you can access powerful tools to help you maximize your SEO efforts.
Utilizing a Squarespace SEO expert to optimize your website content can help you get more exposure and engagement with potential customers. Squarespace offers tools that make finding the right keywords and essential phrases more accessible.
The platform will also show how competitive these terms are within the search engine landscape, so you'll know which could boost your business's rankings. Squarespace's easy-to-use and user-friendly interface make it easy for anyone (even those just starting) to take advantage of its practical search engine optimization tools.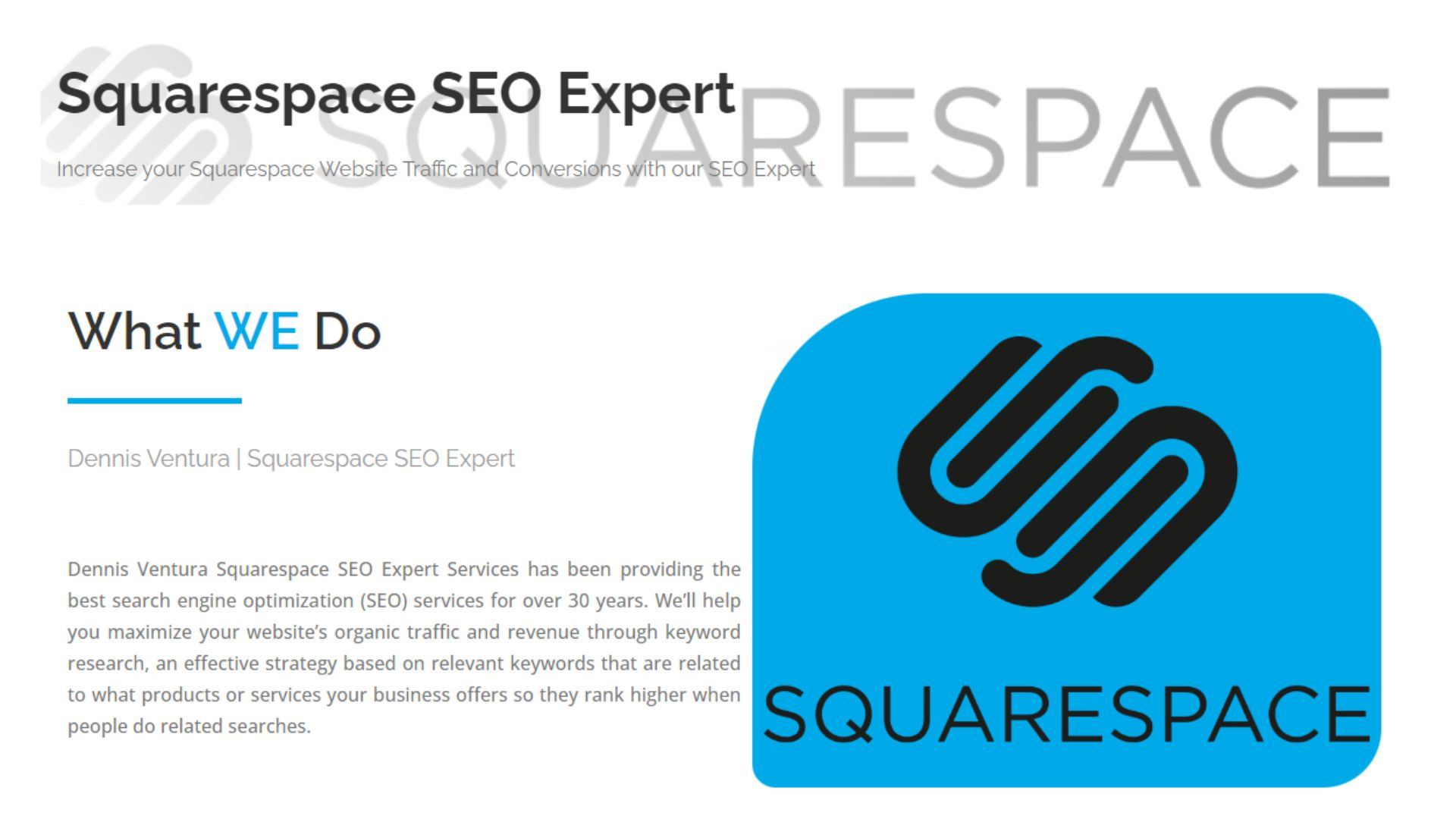 How To Improve SEO On Squarespace?
If you're looking to improve your SEO on Squarespace, one of the most important steps is to enlist the help of a Squarespace SEO expert. A Squarespace SEO expert can help you to understand which keywords and phrases will be most helpful in boosting your search engine optimization and then develop strategies to incorporate them into your website correctly.
They can suggest ways to increase website traffic by strategically optimizing titles, descriptions, and meta tags. Additionally, they can advise on tactics like ensuring that any internal links are structured logically, emphasizing keyword-rich post content, and optimizing for mobile web searches. Whatever your needs may be when it comes to improving SEO on Squarespace, an experienced Squarespace SEO expert can ensure that your business's goals are met in meaningful ways.
How To Add SEO Keywords to Squarespace?
To add SEO keywords to your Squarespace website, there are several simple steps you can take. First, determine the keywords that most accurately capture your content, and then make sure they appear in your page titles and meta descriptions. Secondly, ensure that they are also included in the body of each page by using headings and subheadings with key phrases in them.
Thirdly, include additional keyword-rich text within your body copy where appropriate. Lastly, consider consulting a Squarespace SEO expert to help create an effective strategy that provides all necessary optimization elements for improved rankings. By following these easy steps, you can enhance your visibility on the web and attract more visitors to your site.
How To Optimize SEO On Squarespace?
Optimizing SEO on Squarespace is essential for any business or individual trying to get their content noticed. Fortunately, many Squarespace SEO experts are experienced in optimizing website platforms like Squarespace to ensure that content outshines the competition. These Squarespace SEO experts have important tips and tricks to increase your search engine rankings and maximize website speed and other critical areas of content marketing. To succeed with Squarespace SEO, it's vital to do outstanding keyword research, develop engaging titles and meta descriptions, and use relevant images that include alt-tags. Additionally, you can sustain high rankings over the long term by consistently monitoring performance and tweaking as necessary.
How To Boost SEO On Squarespace?
When people are finding your website, boosting SEO on Squarespace is essential. Working with Squarespace SEO experts will be the first step towards increasing your Google ranking and driving traffic to your site. These experts can improve the usability of a website by optimizing content, improving meta tags, researching keyword phrases, and ensuring that all links are indexed.
Additionally, an SEO expert will ensure that everything works harmoniously by ensuring that internal linking is done correctly and that plugins run efficiently. Implementing SEO tactics on Squarespace will boost your site's organic traffic and significantly increase its online visibility.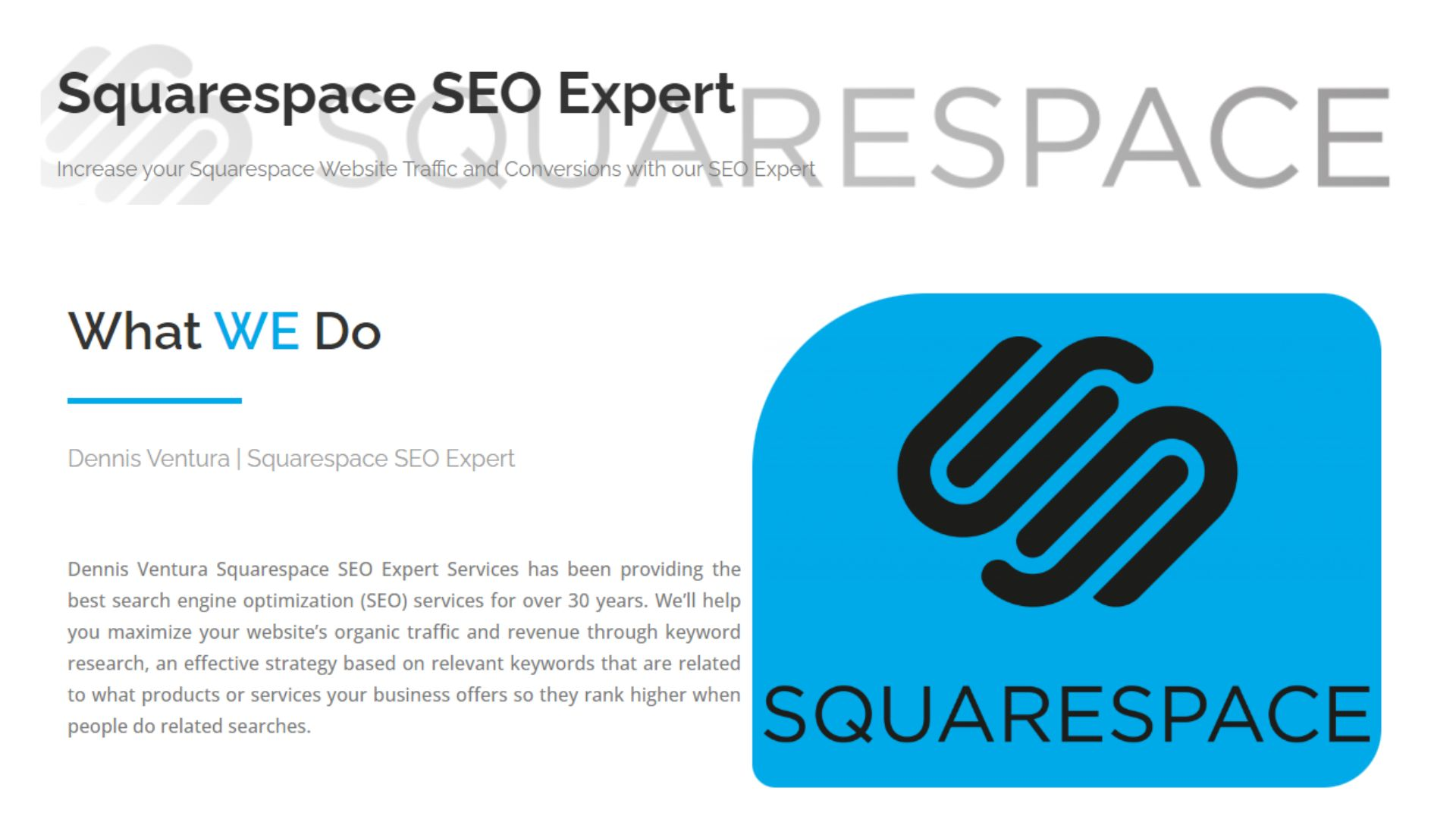 How To Make Squarespace Site SEO?
SEO is often daunting for website owners and developers, but it's essential for increasing site visibility and driving overall traffic. Fortunately, Squarespace users have many tools to make the most of their SEO efforts. For starters, take advantage of the built-in features that all Squarespace sites come with to configure basic steps like page titles and descriptions, keyword usage in text and image alt tags, and the accurate linking of site pages.
Consider hiring a Squarespace SEO expert to help you set up more advanced tactics like structured data or creating content focused on user intent. Ultimately, setting up your website structure to make it easier for search engine crawlers and end-users to navigate your site will help immensely in rising through Google's ranks.
How To Use Squarespace?
Squarespace is a website platform that allows users to create stunning websites without coding. To get started, sign up for an account and select the best template for your project. Then, customize the design by adding content, images, or videos to your site's pages. Squarespace also provides drag-and-drop tools to make styling your website easy. Finally, use the Squarespace SEO tools to optimize for search engines and publish your site. With Squarespace, you can set up a beautiful website in no time!
You can also consult with a Squarespace expert to help create an effective strategy that provides all necessary optimization elements for improved rankings. By following these easy steps, you can enhance your visibility on the web and attract more visitors to your site.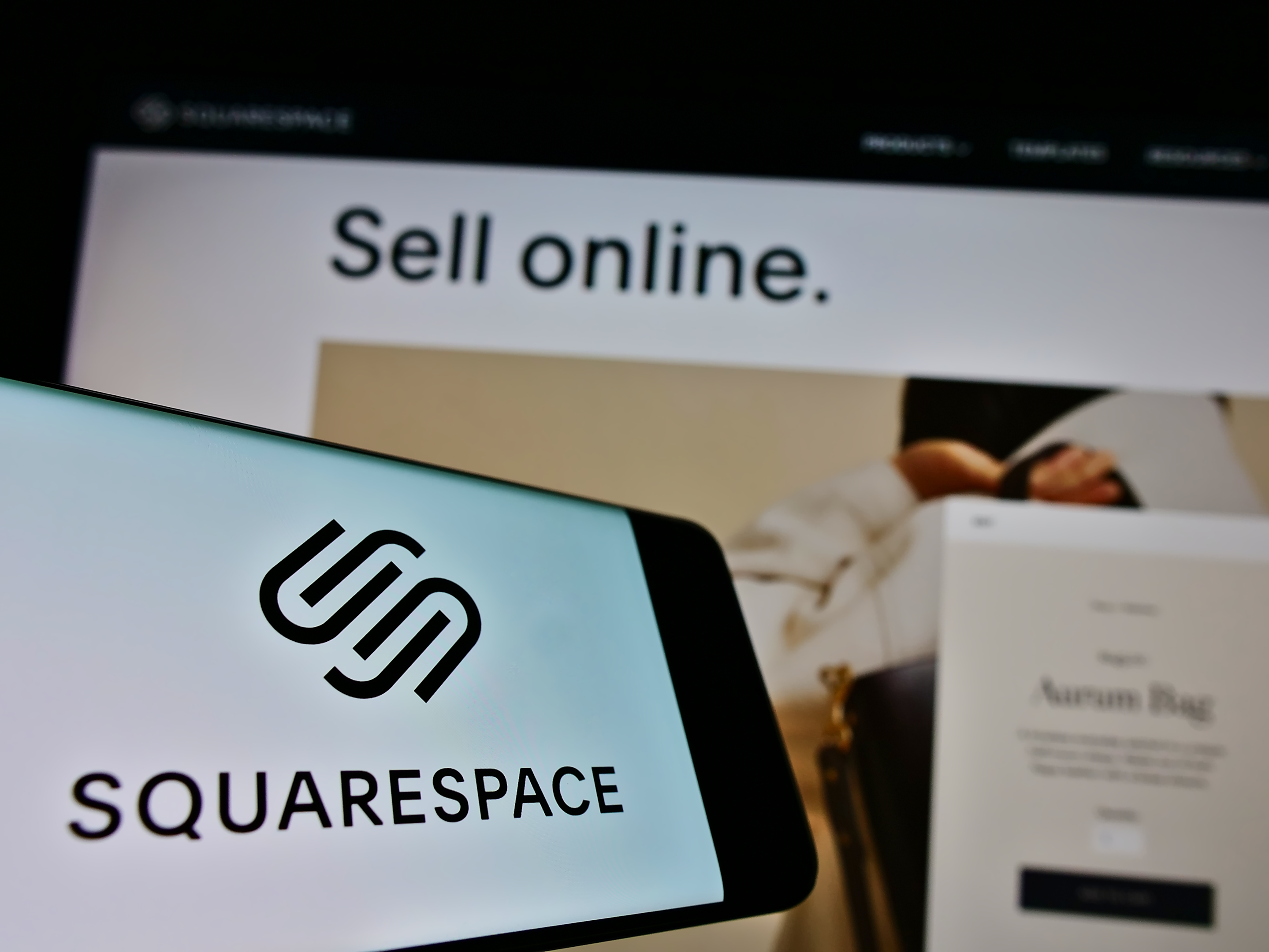 How Much Does a Squarespace Website Cost?
Suppose you want to design a gorgeous website, Squarespace. Many entrepreneurs use Squarespace to create a professional website that's designed to capture potential customers and build an online presence.
Just how much does a Squarespace website cost? The short answer is that it depends on the options and features you choose when designing your site. Prices range from $12 to $40 per month, with annual plans providing a discounted rate on domain names and hosting services.
For more complex designs, Squarespace SEO experts can help designers customize the look for optimal search engine visibility and ease of use. However, this will raise monthly costs significantly. Ultimately, it's essential to consider all your options before investing in the right platform for your business website needs.
How To Build a Squarespace Website?
Once you know what kind of website you would like to create, the next step is to figure out how to build it. Squarespace makes it easy for anyone, regardless of skill level, to create a beautiful and functional website in just a few clicks. You can start by signing up for a free account and selecting the best suitable template. Also, small business owners can ask help for an expert to do a Squarespace SEO audit that also provides Squarespace SEO services
Then, add content, images, and videos to your site's pages with the drag-and-drop editor. Finally, configure the SEO settings for each page and link them together logically for optimal navigation. With this guide, anyone can learn how to build a Squarespace website quickly and easily and optimize the blog post or blog content for a better Google search Results.
You can ensure that your Squarespace website stands out from the rest by combining SEO and design elements. Utilizing these tips, you can optimize your site to draw in more visitors and increase its online visibility. With a little effort, you'll be well on your way to making the most of your Squarespace website provided with the SEO strategies or SEO packages than of Google search console..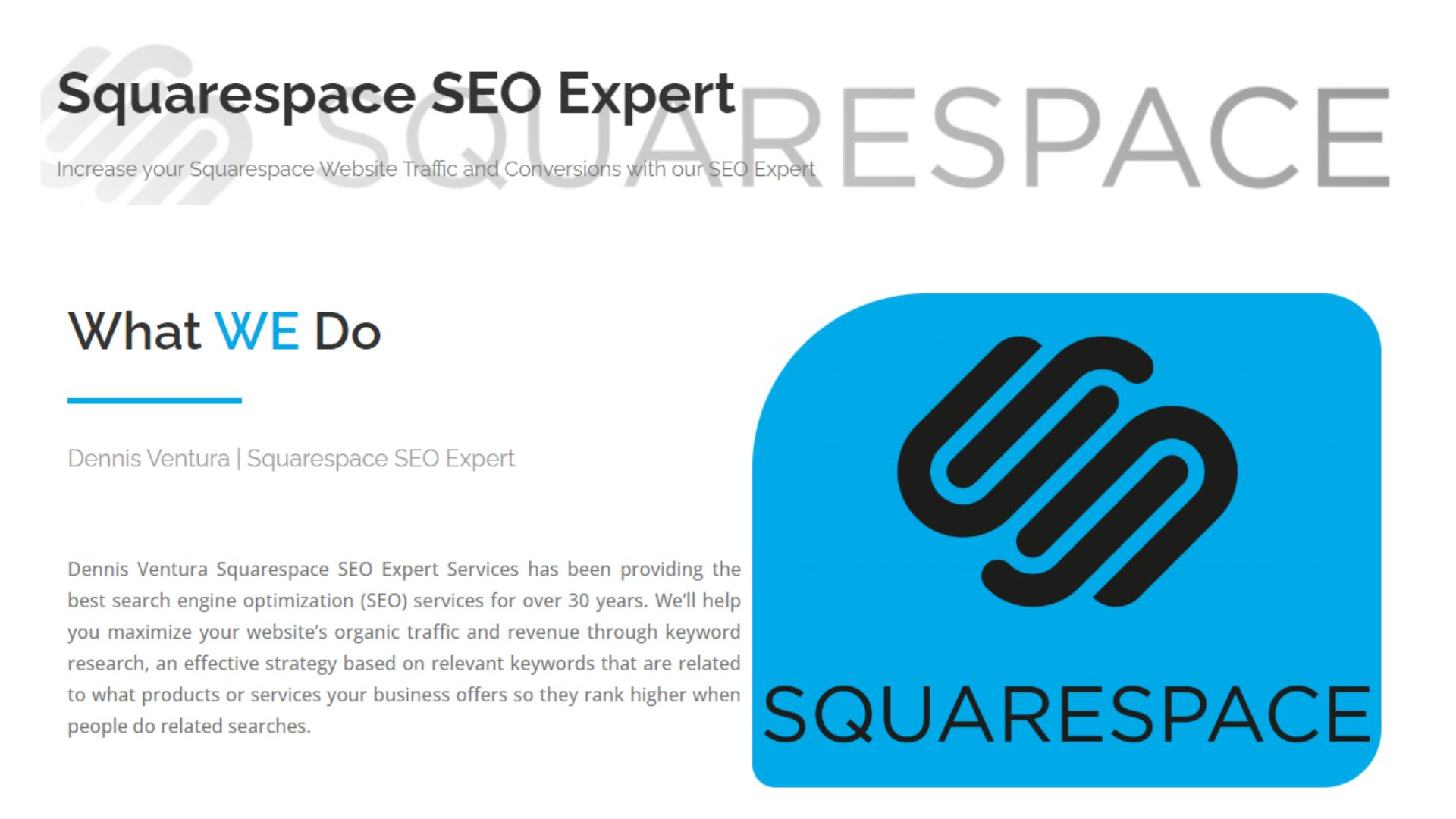 Thoughts
Squarespace SEO is an easy-to-use platform that allows users to create stunning, professional websites with the help of an expert, which implies SEO services and SEO strategy from an SEO agency. With the right combination of design and SEO elements, you can optimize your website to increase visibility and attract more visitors. Additionally, Squarespace offers a range of features at various price points, so you can find the best option for your needs for Google searches and SEO for your website.