Finding a reputable Squarespace SEO Expert can be a daunting task. The best way to start is through online research. Look for online reviews from past clients and find out what they have to say about the quality of the service provided by each company you are considering. You can also ask for referrals from friends or colleagues who have had positive experiences with a specific company.
When researching different companies, make sure to ask about their experience with the Squarespace platform, as well as their approach to SEO. Additionally, look for websites with good content and design since those are important factors for a successful SEO strategy.
Once you've narrowed your choices, contact each company and ask questions about their pricing, services, and experience. Finally, feel free to negotiate a fee that you're comfortable with. With the proper research, you can find a reputable Squarespace SEO expert to help improve your online presence.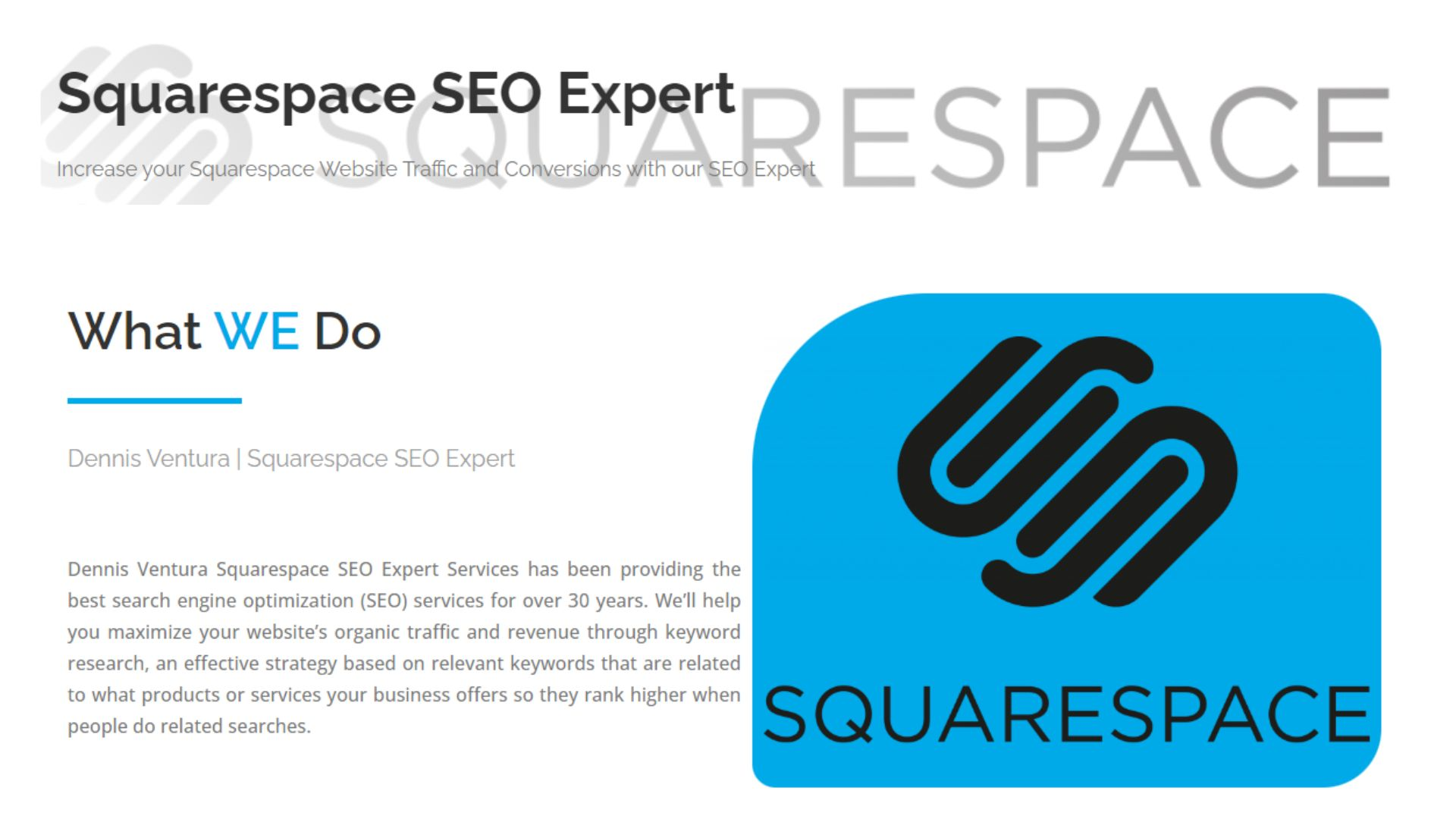 How to Do SEO for Squarespace?
Optimizing your website for search engine optimization (SEO) is essential for all businesses, and Squarespace provides users with an excellent opportunity to maximize their online visibility. Developing a Squarespace SEO strategy begins with selecting the right Squarespace SEO expert. The expert can start by conducting research into keyword opportunities, then creating content that is optimized around those keywords. Once you have acquired the proper support and made content that includes your keywords, additional steps may consist of:
Optimizing images on your Squarespace site.
Optimizing meta tags.
Setting up structured data markups and submitting XML sitemaps.
Following these Squarespace SEO tips will ensure you place well in relevant search results and reach more potential customers.
How to Set up Squarespace SEO?
Setting up a Squarespace SEO strategy requires understanding the basics of SEO and then taking advantage of the features that Squarespace provides. To get started, use the best practices for title tags, meta descriptions, and HTML elements used in web page markup. Use relevant keywords throughout your content, and ensure any images have descriptive alt tags. Additionally, Squarespace provides an easy way to set up 301 redirects and customize URLs. Lastly, check your robots.txt file, which gives search engines instructions on how to crawl the website. With these steps in place, you are well on your way to creating a successful Squarespace SEO strategy.
It is important to remember that SEO is ongoing and requires regular maintenance. Keep track of your changes and how they affect your rankings over time. Additionally, stay up to date with changes in the SEO industry so that you can continue to optimize your website for success. With a solid Squarespace SEO strategy, you can be sure your website will reach the broadest possible audience.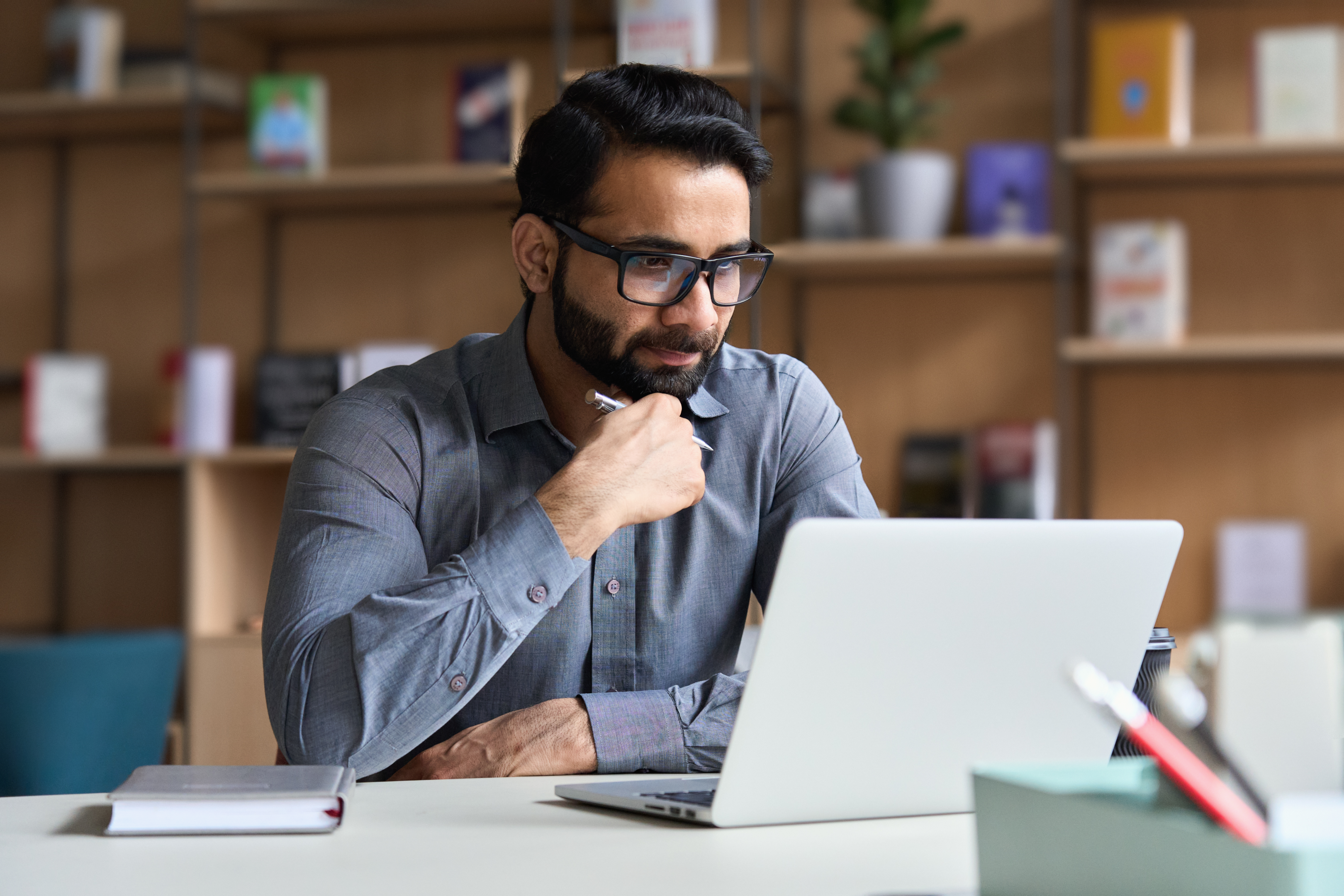 Do I Need to Check Client Reviews?
Consulting Squarespace SEO experts can be an invaluable resource for optimizing websites for search engine rankings. However, all service providers must proceed with caution before investing in resources. Checking client reviews allows potential customers to determine if a Squarespace SEO expert is the right service provider for their website optimization needs. Assessments provide insight into the ability of the Squarespace SEO expert and the legitimacy of their services. Reading reviews could answer questions like what kind of results were achieved, did work begin and end on schedule, and was customer support timely? Applying this due diligence will ultimately lead to selecting a qualified Squarespace SEO expert and achieving the desired results.
What Services Should Your Squarespace SEO Expert Offer?
Search engine optimization (SEO) is essential to any website's success. That's why working with a Squarespace SEO expert is a great way to ensure your website stands out from the competition and rivals industry leaders in terms of rankings. A Squarespace SEO expert should be able to provide you with tailored services that can bolster the success of your website, such as keyword research and analysis, content creation and optimization, off-page link-building tactics such as directory submission and creating quality backlinks, and technical recommendations regarding coding, indexing, and crawling. With the right Squarespace SEO expert on your side, you can expect higher search engine rankings that will translate into increased visibility for your website.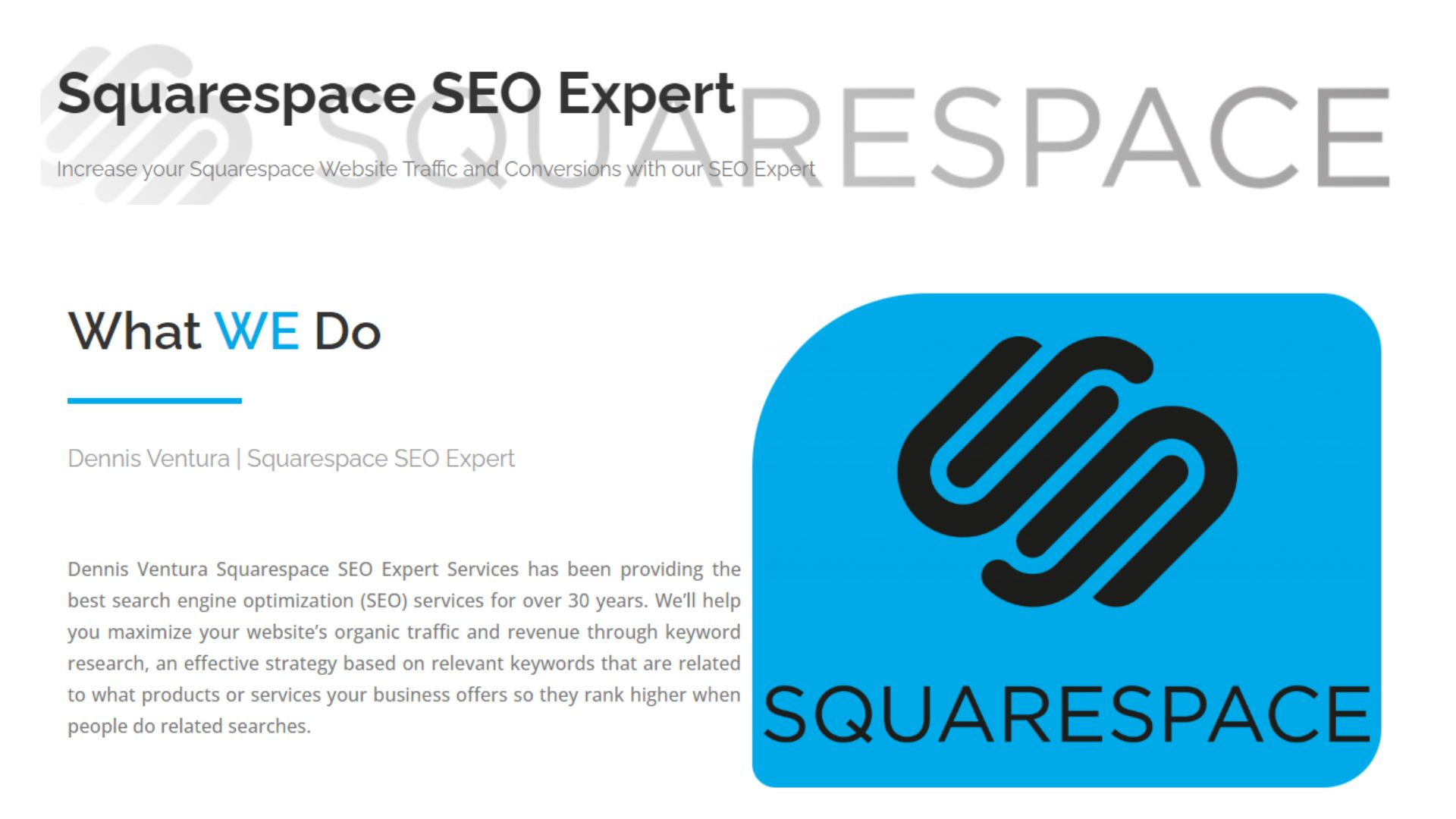 What Should My Squarespace SEO Expert Guarantee Me?
When you hire a Squarespace SEO expert, it's essential to trust that you're getting the best service possible. A reliable Squarespace SEO expert should guarantee to provide techniques and strategies to improve your website's ranking in search engine results. They should also ensure ethical SEO improvement tactics, such as optimizing meta tags, implementing a link-building strategy, and conducting proper keyword research.
In addition, you should expect your Squarespace SEO expert to keep up with the latest trends and changes in digital marketing so that your company is seen in the highest-ranking places possible. The goal is to create a successful optimization campaign resulting in increased organic/natural traffic to your website—something your Squarespace SEO expert absolutely must commit to delivering for you.
What Points to Consider in Finding a Squarespace SEO Expert?
If you're looking for a Squarespace SEO expert, there are a few essential aspects to keep in mind. First and foremost, experience and track record should be taken into consideration. Qualified experts will have plenty of proof and references from previous projects that showcase their successes. Also, it's always good to ensure they offer measurable results to maximize the returns on your investment.
Furthermore, it pays to check what other services they provide besides Squarespace SEO solutions: Are they experienced in web design? How about website auditing? A comprehensive service can help you reach your goals more quickly. Finally, remember to go through the portfolio or, even better, speak directly with past clients to get feedback before making your decision.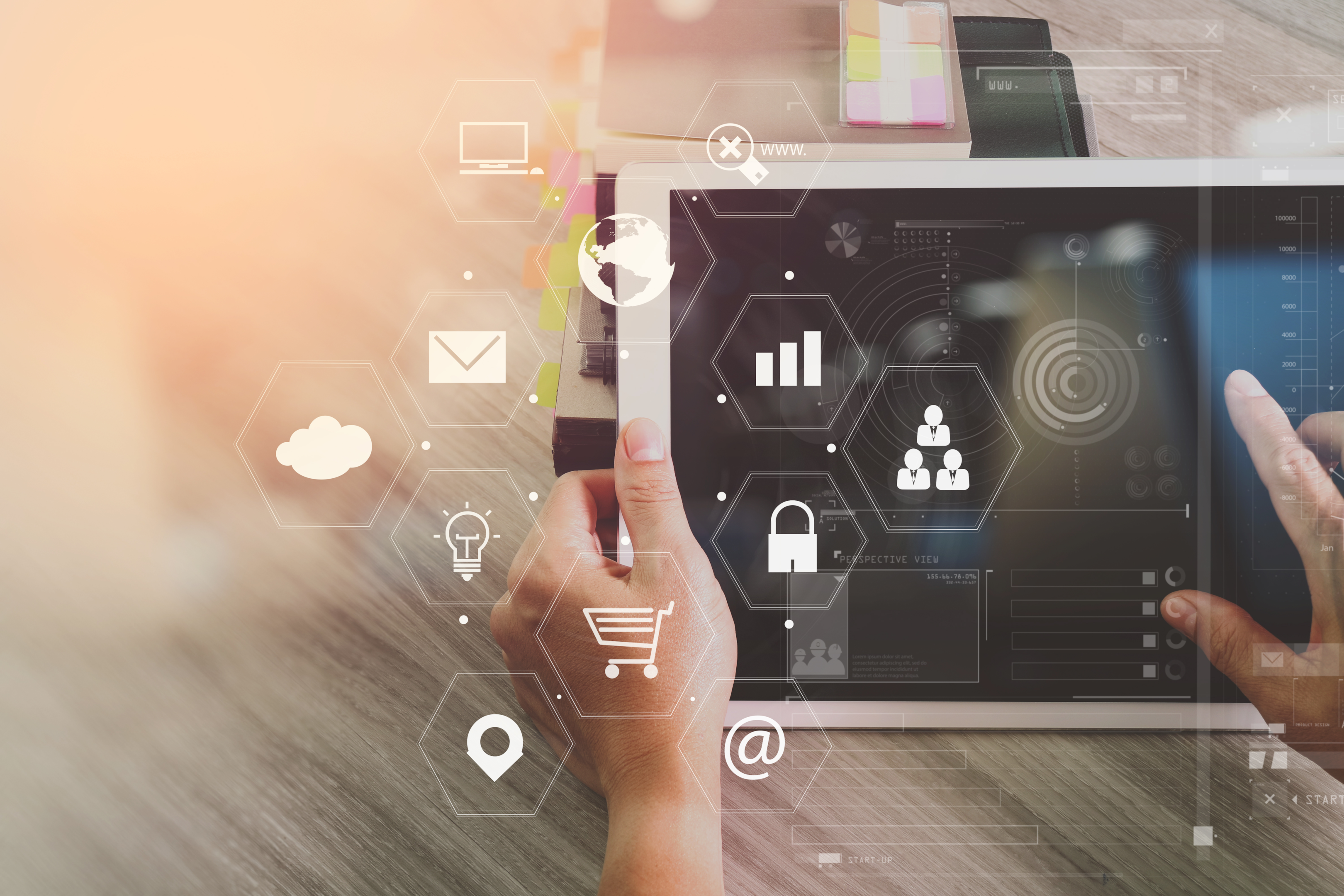 What Are Red Flags When Hiring a Squarespace SEO Expert?
When looking for a Squarespace SEO expert to help build traffic, visibility, and conversation growth for your website or online business, or small business owners, it is essential to recognize the warning signs that indicate that you are hiring the wrong person. These red signs include when an SEO expert promises guaranteed or instant results, claims to be able to rank your website on top of search engine results pages, offers to get paid based on the number of visitors they bring, or promises features and services they don't have full control over.
It is also advisable to refrain from experts who advertise outdated tactics such as keyword stuffing or buying high page rankings. In addition, be wary of those who need to consider ethical practices such as using quality blog content and link-building strategies that make your website reputable from good SEO. Knowing what red flags to look out for can help you find the right Squarespace SEO expert to deliver tangible results without risking your website's reputation as part of the SEO packages.
Who is the Best Squarespace SEO Expert?
When it comes to finding the best Squarespace SEO expert, you want to ensure you are working with someone who understands the ins and outs of the platform. A Squarespace SEO expert should have a comprehensive knowledge and Squarespace SEO services base about the platform and its unique features to give their clients the best optimization possible in Google Search Console of their Squarespace website.
They should also be aware of industry best practices with SEO strategies and SEO tactics from SEO agency, the changing business landscape, and popular search engine algorithms to ensure maximum visibility in Google search results or Google searches for their client's websites. Ultimately, it is essential to find an experienced Squarespace SEO expert who can provide your business with cutting-edge marketing solutions explicitly designed for Squarespace SEO audit websites. All these characteristics and more can be found on the website of one of the best SEO Experts, Dennis Ventura, at Dennisventura.com.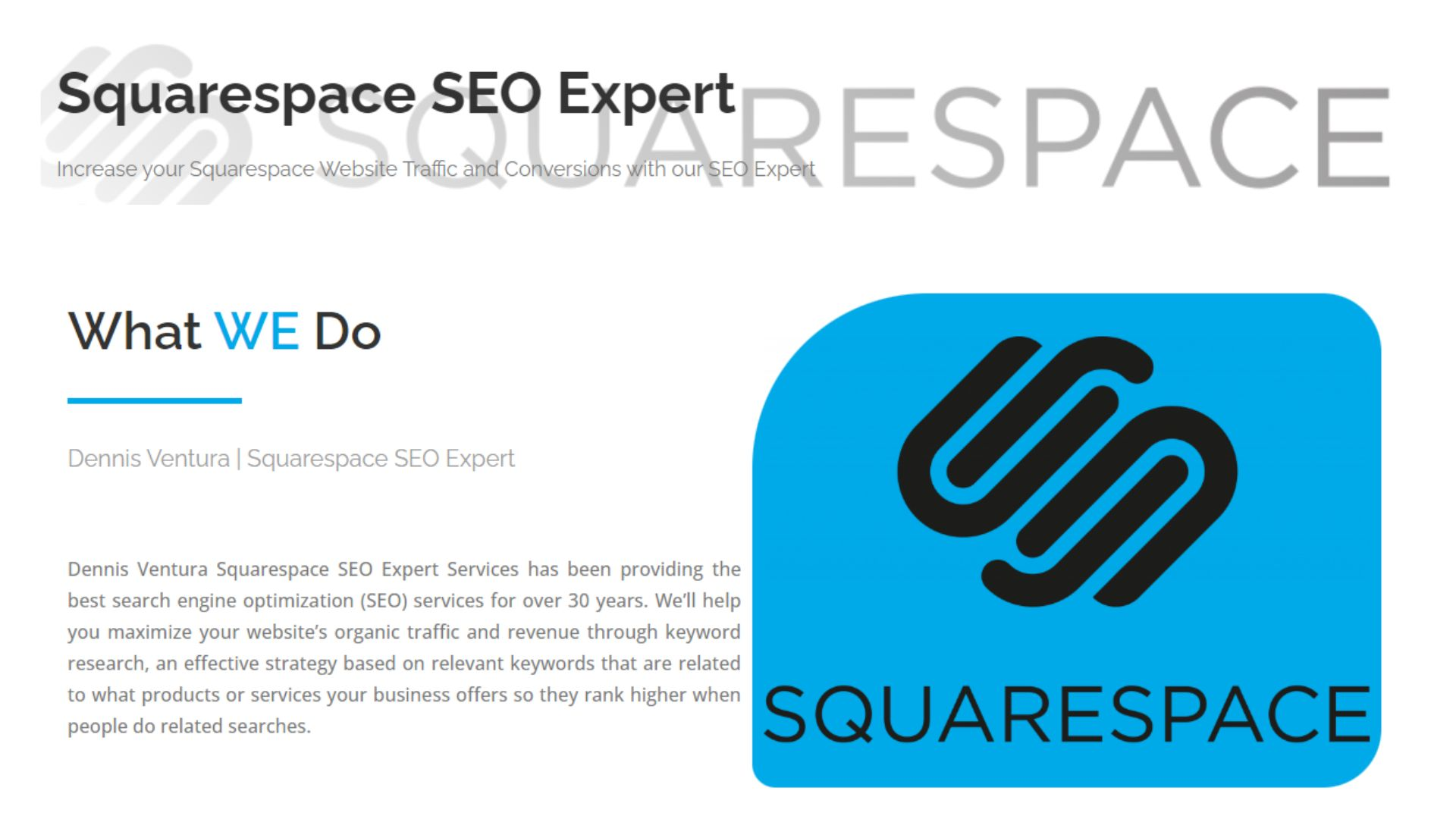 Thoughts
Hiring a Squarespace SEO expert with the right experience and qualifications is critical for any business or website to get the most out of its digital marketing campaigns. Suppose you are looking for the best Squarespace SEO expert. In that case, Dennis Ventura at Dennisventura.com should be your first choice, as they have all the necessary experience and expertise to provide your business with the visibility and traffic it needs to succeed online.